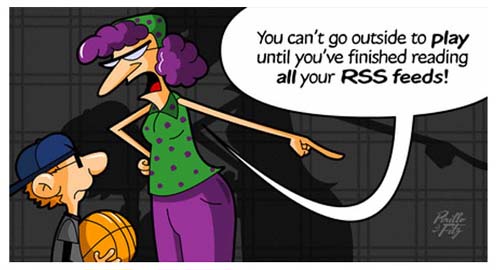 RSS Feeds are a great way to browse articles on the Internet. I like that you can tailor them to provide articles that you actually want to read because it bases its selections off your personal interests. It's like the cool best friend who knows all the best restaurants in town, you never know what to expect but you know you're going to like it. By using RSS Feeds I was able to find a lot of cool articles that I would have never seen and for that reason I really enjoyed using it and will continue to use it beyond my time in this class.
My Future with RSS Feeds
Edit
I'm going to keep using RSS Feeds because it's a very clean organized way to see news and blogs that you know you will probably like all in one place. Before I would have to sift through every individual website to find interesting reads but now, as if by magic, they all show up on one screen ready to read. The only problem with RSS Feeds is that I can never decide what to read first. I also like that it gives you suggestions for new websites based on the ones you already follow. I can't believe I was missing out on some of these awesome websites before and I'm thankful that RSS brought them into my life. I'm excited to see what our future holds together as feed and science teacher. Hopefully more interesting engaging articles are in our time to come.
 In just my short time using RSS Feeds I've seen a whole lot of articles that would be great to use in the science classroom. From spinning tea to make it hot (http://what-if.xkcd.com/71/) to the awesome idea of life on other planets (http://www.npr.org/blogs/thetwo-way/2013/11/04/243062655/scientists-estimate-20-billion-earth-like-planets-in-our-galaxy?ft=1&f=1007), RSS Feeds has hooked me up big time. These articles are great leeway into discussions, great class starters, and just a great way to get kids interested in possibilities of science. I will definitely use RSS Feeds as a resource for my classroom because it's just too darn simple and easy.
You can check out some of my favorite articles I've found through RSS and ideas I have to use them in my classroom at my blog: http://laurencheckinin.blogspot.com/